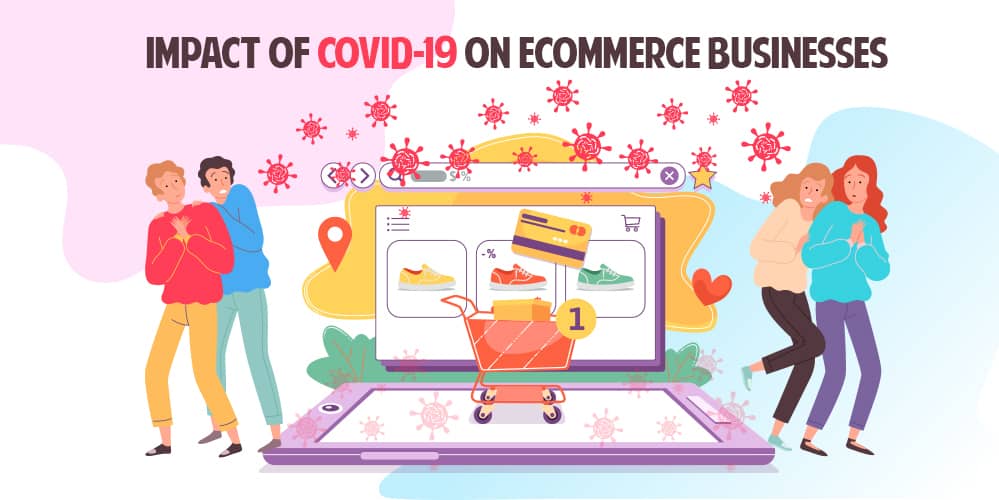 The COVID-19 pandemic has completely changed the way we function as a society and interact with one another. These are surely unprecedented times and people are using all manners of ways to deal with them. Online shopping is an area of human behaviour where massive changes have been observed overnight due to this phase of social isolation and complete uncertainty. Online shopping or ecommerce sites, developed by an Ecommerce Website Development Company, have almost exclusively replaced traditional modes of shopping as people can hardly go out of their homes. People are now placing orders for commodities in bulk quantities. As selling non essential items has completely shut down, people are only sticking to the most essential things they need to buy on a regular basis. Consumers are now cutting down on their unnecessary expenses and limiting their purchases of luxury items. This has made it necessary for brands to adapt to the changing scenario of shopping.
COVID-19 pandemic and panic buying
Once COVID-19 was declared by World Health Organization (WHO) as a global pandemic, there was a quick surge in panic buying all across the world. Whether it is medical supplies such as protective masks, hand sanitizers, medicines and toilet papers or food supplies, a massive demand for such goods was observed and both traditional and online stores struggled to cope up with such demands.
Responding to dilemmas can vary between one person and another, but a common element is that everyone desires to have greater control over their own lives. People feel like having a greater sense of autonomy as well as they need to be in a position where they can take control over the well-being of their loved ones.
Shopping trends across various demographics
It has been observed that the younger generation has been affected by the pandemic much more intensely than other generations when it comes to their online shopping trends. The young men and women are spending less on luxury items and stocking up on more numbers of items. On the other hand, the online shopping behaviour for older generations has remained more or less the same.
Both men and women have been hit hard when it comes to their shopping experiences. However, it has been observed that more men than women are now prone to shop from online stores than women. There has also been a sharp drop in the tendency to spend on experiences.
Rise of specific Ecommerce Businesses
The lockdown has made it necessary for people to stay home most of the time and this has replaced traditional modes of shopping with online shopping. One of the sectors that have seen a major surge in demand is the online grocery and food supply stores. In many parts of the world, there is now an increased demand for subscription based shopping experiences. Products like baby foods and childcare products, health and wellness products, pet care items, work from home items and household items have also been through a major rise in demand.
It has been noted that the demand for masks, sanitizers and other medical products have gone up almost 300%. In fact, health items are being bought much faster than such goods can actually be produced and stocked.
Another sector that has seen a rapid surge in demand is food products and milk products. The demand for these goods is so high that many online stores are finding it difficult to keep up with such trends. In fact, the grocery orders now range to about 125% to 200% of what it used to be a few months ago.
Distance education, homeschooling and learning apps are now doing quite well since there is now an insistence on online learning. Students in school as well as those who are into advanced courses are signing up for such app based learning services.
As most people stay home these days, there is also an increased demand in digital streaming platforms that can keep people entertained while at home. For instance, Netflix, Hotstar and Disney Plus, Amazon Prime, Zee5, Hoichoi and Voot have seen tremendous popularity in the recent times. Even companies that have not been traditionally into streaming services now have joined the bandwagon.
There is also a demand for Microsoft XBOX and Sony PlayStation gaming consoles as people want to keep their minds engaged when they are at home.
Buying fashion apparel and merchandise has now hit an all time low as people are not keen on splurging on them. Many online fashion stores are instead branching out to help consumers get their daily supply of essential goods.
Adapting to the changing trends of online shopping
Considering the new trends brought on by COVID-19, it is safe to say that such issues are going to last a while. Hence it is important for online shopping websites to adapt to the current situation so that better profit margins can be ensured. Here are some things that you can do when you are looking to improve your online store business.
Invest in PPC marketing but try other approaches to improve their effectiveness. Focus on using keywords that people are likely to search for in an economy influenced by COVID-19 pandemic instead of those used during normal times. Stick to keywords that guarantee higher rates of conversions.
Always stick to the finest ecommerce development tools like Magento, Shopify and WooCommerce to achieve the best response from the target customers.
Make use of Organic SEO productively so that it can generate maximum visibility for your business.
Use social media to show your prospective customers that you care for them and that you can do what is necessary to keep them satisfied in these difficult times. You should also bring value to people's lives by helping them to recover from blue moods so that they can stay upbeat and positive.
You should also make use of Digital PR strategies that can promote interesting stories and present them through the mainstream media.
Following the above guidelines can surely help you out when you are looking to make the most of the market opportunities that are provided to you by an economy impacted by COVID-19. This can also help you to contribute in important ways to the lives of common people who have been badly impacted by the coronavirus pandemic.
Speak to our Ecommerce Website Design experts now to tap into the infinite opportunities of eCommerce and setup an online store for your business.