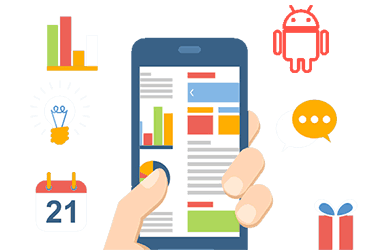 Android Development
Launch your business to the mobile platform with robust Android App development optimized for performance and user experience.
Introduction of Android on smartphones propelled a much desired change in the way technology was perceived in commerce. Android has made it possible for businesses to build affordable apps with robust and exciting features. It is versatile, flexible, and customizable – in a word, the ideal platform for developers to dream and develop. Every business now needs a functioning Android application for its customers, employees and partners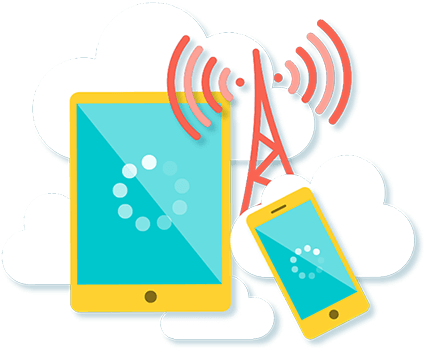 How WHTL serves as the best Android Development Company?
WHTL has remained an early adopter and a leader in innovation and development. The team assesses requirements and prepossesses technology for the best in the class solution. Our knowledge on Android Software Development Kit (SDK), Android Media APIs, GPS Service APIs, Wi–Fi APIs, Android Security Architecture, OpenGL, 3D graphics, Animation, and other technologies allow us create world-class solutions for you.

Custom Android App Development
Building custom apps for enterprises from scratch are few of our accomplishments. Our team is equipped with right knowledge and experience.

Online Booking & E-Commerce Portals
Grow your online business with happy customers. Boost your business growth with improved user experience, advanced store management, and payment gateway integration.

Gaming apps
With advanced 3D graphics and Animation our game designers create visually stunning and complex games like – arcade games, puzzles, racing, educative, simulation etc.

Upgrade & Maintenance Services
Keep your Android app updated and compatible for the latest version or add new features with long term, affordable maintenance options from WHTL.

Financial & Banking Applications
WHTL is a leader in offering complete app development solutions to banks, insurance, and financial institutions robust with rich features and heightened data security.

Travel & Utility App Development
From API integration, feature development and UX/UI design we are leaders in travel and utility based android app development.

News & Education Apps
At WHTL we always focus on achieving highest level of client satisfaction for our clients to guarantee the right kind of support to promote their business.

Wi-Fi and GPS Enabled Web Apps
We have excelled and have carved ourselves a niche in developing highly functional and robust suite of Wi-Fi and GPS Enabled Web Apps.

Health & Fitness App
Health and fitness apps build by our team have special features like storing health information, upload prescription, fitness trackers, view progress etc.

Business App
A business app must cater efficiently to stakeholders, employees, and partners – we create a suite of business apps that are designed for convergent business environment.

Native Android App
Specially designed native apps from WHTL install seamlessly, take advantage of OS features, and interact with other installed software.

Hybrid Android App Development
Reduce the cost of application development with hybrid Android apps. We build hybrid apps that are cross-platform compatible, feature rich, and stable.
Why choose WHTL for Android App Development?
We feature as one of the best Android add development and support solution provider in the industry. Finding the best-fit solution for your problem is our motto and as a team we go beyond in just offering technical expertise.
Full app life cycle support: From sketching, prototyping to development we connect with the right partners to find the best possible solution, technology and framework to achieve the best outcome for your problem.
Latest technology: The team has worked on different technologies and framework to understand the nitty-gritty of app development. They have further honed their skills through many app developments. Clear understanding of requirements and agile methodologies allow us to build robust, sustainable, scalable, and secured applications.
Optimized time to market: Being quick in the competitive market can make all the difference for you and we guarantee that you always enjoy the early bird benefits. Use of the latest framework allows us speedy and error free development.