Most of us aware that with WordPress, we can create amazing blogs. But, how many of us really know that WordPress is the ready solution of many of our unique website needs? In this article, we will show you 10 different kinds of websites that we can easily develop with WordPress, which does not ask for any software programming skills.
To get started with WordPress site, we need a WordPress hosting along with a domain name, which, one can decide based on their nature of business or other needs.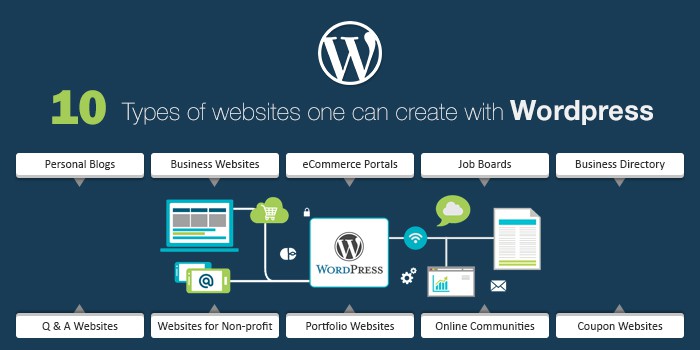 1. Personal blog or website
If you want to create a polished looked personal blog (could be a food or travel blog or any other topics), WordPress platform is apt for you. Decades back, WordPress had actually started its business model as a pure play blogging platform and later evolved into the most powerful content management system (CMS) globally, which most users rely on. Personal blogging is still a strong offering from WordPress, and today it's more polished, sophisticated and mature. It provides array of tools to customize your blog or website on your own way.
2. Website for businesses
Today, a sleek web presence is key for any business. WordPress has lot to offer in that aspect. There are thousands of ready-made professional looking business website themes, which can ensure your business website is ready with required customization in no time. The platform provided by WordPress is so powerful, secure and scalable that today most established businesses globally relying on it.
3. eCommerce platform
eCommerce is hot across the globe, fueled by the success stories created by Alibaba, Amazon or Indian companies such as Flipkart or Snapdeal. Today, growing or established businesses are increasingly looking to have an online presence to boost customer reach beside their existing offline business model. WordPress plugins like WooCommerce has all solutions needed for a modern and robust eCommerce platform. It provides ready solutions for payments, manage inventory, shipping, taxes, and users interface etc. to cater to the evolving business needs.
[slideshare id=59248782&doc=10typesofsitesonecancreateinwordpress-160308095508]
4. Job board or job listing websites
We have established online job listing and hiring player like Naukri, Monster and Times Jobs etc. But there is a market requirement for niche job boards catering to the needs of specific industry or specializations. WordPress tools and plugins provide a simple and easy platform with mobile interface to create such customized job boards.
5. Business Directory
Gone are the days when you have page heavy printed business directories, today it's the time of the players like JustDial or Sulekha or Ask Laila. Unlike large players who covers the entire market, there is a specialized need in the market for niche business directories on the web. WordPress plugins offer cutting edge and advanced solutions built on WordPress to cater these needs on which you can simply trust upon.
6. Question & Answer Website
Today, it's all about social opinions. Consumers are increasingly relying on peer advice, reviews or feedback on any buying decisions. If you have a plan to create the next Quora or Yahoo Answers, the online community solutions of WordPress is apt for you.
7. Websites for non-profit organizations
You can simply create a robust website for your non-profit organization / institute with WordPress. It provides plenty of tools and plug-ins which allows you to get error free donations or funding online. In the same way, it helps to religious organizations such as temples, churches or mosques etc.
8. Portfolio Websites
Are you looking for an online presence to showcase your work? Ask for WordPress tools to your website developer. Be it lifestyle, fashion, photography or art, you can easily create a portfolio website with WordPress which is glossy, polished and sleek.
9. Online Communities
BuddyPress is the end-to-end community plug-in from WordPress, which allows you to create communities. Be it a consumer forum or issue discussion platform, WordPress has right solutions to satisfy your needs.
10. Coupon Website
We have seen the rise of coupon websites such as BuyHatke, there is a huge market potential for online coupon business. With WordPress, you can develop a coupon generation website to earn affiliate commissions from thousands of websites offering special discounts hassle free.
In addition to the above examples, with WordPress, one can create customized websites based on unique needs. To know more about various WordPress solutions, please feel free to contact us.