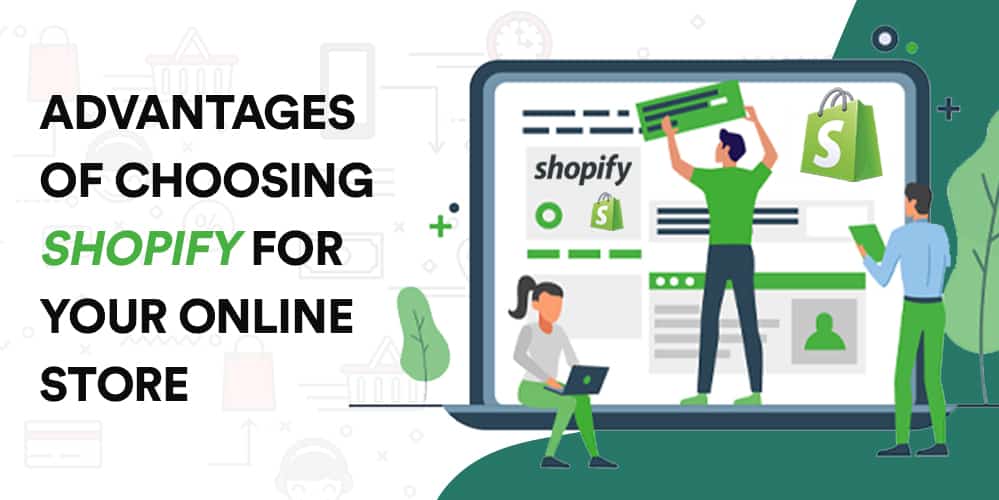 Is Shopify a right choice for your online store? Here are the 10 advantages for choosing Shopify
The advent of eCommerce has changed the retail game in unforeseen ways. Overnight, stores migrated from their dandy brick-and-mortar showrooms to smart online shops selling the same wares at far lesser overheads. And why not? eCommerce stores came with a perfect balance of aesthetics and functionality.
Presenting Shopify
Soon after the arrival of eCommerce, companies like Magento, OpenCart, BigCommerce started to pop up and lead businesses into a new era of electronic commerce. But it wasn't until Shopify joined the fray that a mass exodus from physical to virtual, often to the exclusion of the former was witnessed. Today, Shopify is one of the best platforms of eCommerce. That makes it an obvious choice for traders looking to setup an eCommerce store for their business.
But one might ask what makes Shopify the right choice for an online store among others?
Shopify is a simple and user-friendly site great for e-stores that require minimum configuration and simple features. Good for selling both goods and services, it is a seeding ground for startups. It is also the one platform where small businesses and colossal corporations stand shoulder to shoulder doing business.
But before you take the leap, have a quick rundown through the following points, the ten advantages of Shopify that give it an edge over other platforms.
Real Quick Setup
In a hurry to launch an e-store online? Its Shopify you want to go to for a fuss-free shop setup. Setting up shop on Shopify is really easy through a Shopify website development company, and two chief features account for that, first no fuss over servers and second zero developmental cost. The admin UI is pretty clean and easy-to-use too with an intuitive layout and a logical structure. Shopify even offers video and document tutorials to its users for the sake of easy use.
Customizable Shopfronts
Shopify is a treasure trove when it comes to customization. With over 160 themes to choose from, you will be spoilt for choice. Paid and free, these themes are unique and interesting, and give e-stores characters of their own. With a little time on hand, you can find something on the gallery matching your brand identity.
Apps Galore
Want to upgrade your store functions? Explore the Shopify app store to tune up the shop experience. These apps are coded to add independent features while enhancing the overall functionality of the stores. So, what kind of apps does Shopify have? Marketing, customer loyalty programs, wish list, data analysis, accounting, shipping, you name it.
Strong Security and Steady Reliability
You will be relieved to learn that Shopify is a secure and reliable space. Since eCommerce involves handling sensitive and private information like names, addresses, credit card details, etc., Shopify ensures full security of its users. In terms of reliability too, Shopify is an excellent choice. It does the maintenance and upgrades of all its servers to keep the services perfect at all times. As a result, users get to enjoy fast and secure trading through Shopify.
Independent Payment Gateway
Did you know that Shopify had a payment gateway of its own? It has, and dozens of others which it has integrated with. Shopify's own gateway is powered by Stripe. Users are liable to a certain transaction fee, but are also eligible for lower credit card charges. Plus, you require no merchant account. So that's a win-win.
Superb Loading
Shopify is a no-tech-worries hosted solution. Standing on a robust infrastructure, the site's hardware and software are fully optimized. That makes fast loading one of its many technical advantages. The site loads in less than a few seconds.
An Arsenal of Marketing Tools

Part of what makes Shopify such a complete platform is its stock of marketing tools. Shopify website development companies often make use of its integrated marketing tools like e-Commerce analytics, store statistics, and such things to advertise a brand. In addition to that, Shopify also has custom discount coupons and gift cards for users to offer the shoppers.
Mobile Responsive
Mobile responsiveness is no longer an optional thing for websites. That's why Shopify makes all its themes and designs mobile ready. The designs all have integrated shopping carts that work great on mobiles. Moreover, Shopify has a cache of apps that can make managing your account on the fly really easy.
Round-the-Clock Customer Support
Shopify takes customer service pretty seriously and that explains its robust customer support that is available 24/7. With a fairly fast response time, Shopify offers assistance to whomever needs it, and whenever. The platform is reachable via web chat, phone and email. You can also join their online forums or contact the Shopify Help Center or check out their University guides for any queries you may have.
Abandoned Cart Recovery
One very cool feature that Shopify offers its users is the abandoned cart notification. Like in physical stores where shoppers often load carts with a single shopping item or so but leave the store without buying it, online buyers too do the same by adding items to their cart and not going through with the checkout. For those shoppers, Shopify has this incredible reminder service wherein it tracks all carts in use across accounts and send their users an email about it. This little nudge reminds buyers to complete their purchase. A great way to encourage purchase, this feature generates a fair deal of revenue for the users.
With all its advantages, the platform is deserving of its popularity worldwide. For anyone looking to migrate into eCommerce, Shopify presents a soft-landing pad to get things up and running in an instant. Use the Shopify E-Commerce Website Design Services of a reliable provider like WHTL, to make this decision the best business decision ever.
There are tons of great features waiting to be used on Shopify. The time is ripe too to tap into the infinite opportunities of eCommerce. So, get rolling before it's late.